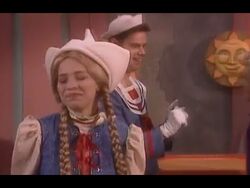 Dutch Girl is a character in Grandpa's Musical Toys and its longer variant Wee Sing in Grandpa's Magical Toys. She is a Dutch doll with a similar facial appearance to an American Barbie doll. Jumping rope is one of her favorite things to do. She has a collection of ribbons but her favorite is a large, light, blue satin one. She wears yellow Dutch clogs and red socks. Her clogs have yellow straps on the back that ensure that they stay on her feet, similar to modern-day Crocs. At first, she prefers her hair ribbons that adorn her braids to be straight and nicely tied; she gets very upset when they come undone after performing Dutch Girl Medley, but the kids and Punchinello talk her out of it and she wears her ribbons undone through the rest of the movie. During the medley we discover one reason why she is named Dutch Girl; in addition to her outfit being traditional costume for girls in Holland, one of her jump-rope styles is called Double Dutch.
Despite being a Dutch doll, she speaks in a voice exactly like that of Batman character Harley Quinn. In an interview, Jacque stated that there was a controversy with the accent (it's not really how she talks). The producers wanted to re-record all of her dialogue using someone with a Dutch accent to make the character more authentic, but because it would be costly and the film was already complete, they left it as it was. Her costume consisted of shoes, socks, tights, six petticoats, blouse, bodice, blonde braided wig, and Dutch hat.
Her introductory song is Pretty Little Dutch Girl.
She also can be a bit of a chatterbox at times as well.
She is played by Jacque Drew.