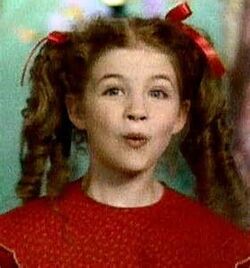 Sally is a character in
Wee Sing Together
. She is
Jonathan
's big sister. She was played by
Hollie Weikel
. She wears pigtails with red bows in her hair. She wears a red dress, white panty hose socks, and red dress shoes for her birthday party. She also wears a frilly pink nightgown with flowers on it for sleeping and ballet pointe shoes for ballet.
When she's asleep, she does not see Bingo noticing Melody.
Ad blocker interference detected!
Wikia is a free-to-use site that makes money from advertising. We have a modified experience for viewers using ad blockers

Wikia is not accessible if you've made further modifications. Remove the custom ad blocker rule(s) and the page will load as expected.