Wee Sing Grandpa's Magical Toys



Written by

Susan Hagen Nipp
Pamela Conn Beall

Directed by

Susan Shadburne

Aired

July 12, 1988

Print

1988, 1995, 2004

Previous

Next
The third video of the Wee Sing Series. Theme Park called "Grandpa's Magical Park"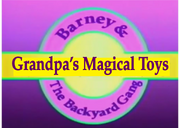 Plot
A boy named Peter and his friends, David and Sara, visit his grandfather and discover his many toys and their secrets, all in the search of a missing music box key that he misplaced. When he leaves the room, the kids shrink down and the toys come to life. This story encourages children, teenagers, and adults alike that no matter how old you are on the outside or body type you have, you'll always be young at heart.24
Songs
Good Morning
Punchinello
A Sailor Went To Sea, Sea, Sea
Long Legged Sailor
The Muffin Man
Hot Potato
Pretty Little Dutch Girl
I Love Coffee, I Love Tea
Mabel, Mabel
Miss, Miss
The Farmer In The Dell
Did You Ever See A Lassie?
The Hokey Pokey
Who Stole The Cookies From The Cookie Jar?
Roll That Red Ball
One, Two, Buckle My Shoe
One, Two, Three O'Leary
One, Two, Three A-Twirlsy
The Merry-Go-Round
Hambone
Playmate
Goofs
The clock, in which Cuckoo lives, keeps changing time at random moments.
Minky Monkey blinks his eyes twice, long before the 'Hokey Pokey that too group even comes to life.
Cast
Trivia
The jar said "No one stole the cookie from the cookie jar.".
Music composer Cal Scott returns for this video.