Wee Sing in Sillyville



Written by

Susan Hagen Nipp
Pamela Conn Beall

Directed by

David Poulshock

Aired

May 16, 1989

Print

1989, 1995, 2004

Previous

Next
The fourth video in the Wee Sing series.
Plot
Two kids named Laurie and Scott, along with their dog, Barney, magically enter their coloring book to help an aptly named Sillywhim resolve the townspeople's differences. They encounter the yellow Spurtlegurgles, the blue Twirlytops, the green Jingleheimers and Fruggy Frogs, the red Bittybooties, and Purple Pasha and her menagerie. The primary message is that being different should never be a barrier to being friends.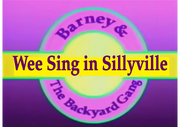 Songs
Do Your Ears Hang Low
We're Here Because We're Here
Boom, Boom, Ain't it Great to be Crazy
Michael Finnigan
No, No, Yes, Yes
Once an Austrian
Grasshopper
John Jacob Jinglehiemer Schmidt
Little Green Frog
Frog Round
Down by the Bay
Risseldy, Rosseldy
Bitty Booty Baby
One Bottle o' Pop
I'm a Nut
A Ram Sam Sam
Five In the Bed
Be Kind To Your Web-Footed Friends
Make New Friends
Let Us Sing Together
Cast
Ad blocker interference detected!
Wikia is a free-to-use site that makes money from advertising. We have a modified experience for viewers using ad blockers

Wikia is not accessible if you've made further modifications. Remove the custom ad blocker rule(s) and the page will load as expected.