The seventh video of the Wee Sing series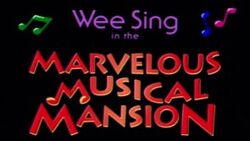 Plot
Three children named Benji, Kelly, and Alex and their Auntie Anabella go to visit their Great Uncle Rubato in his Marevelous Musical Mansion to see Meter the Mouse and Cadenza the Cat.
Songs
My Aunt Came Back
She'll Be Coming Round the Mountain
How Do You Do?
My Hat, It Has Three Corners
The Orchestra Game Song
Tap-A-Cappella
The Ballerina's Waltz
The Doodle Det Quintet
The Marching Song
Viva La Campagine
The Melody Song
The Magic of Music
Hickory Dickory Dock
Round the Clock
Oh Where, Oh Where
Clap your Hands
Reuben and Rachel
Hey Diddle Diddle
Oh Where, Oh Where (Reprise)
The Magic of Music (Reprise)
When the Saints Go Marching In
Cast
Great Uncle Rubato
Candeza the Cat
Tap-A-Capella Singers
Hat Rack
Doodle Det Quintet
Meter the Mouse
Door Knocker
Trivia
Ad blocker interference detected!
Wikia is a free-to-use site that makes money from advertising. We have a modified experience for viewers using ad blockers

Wikia is not accessible if you've made further modifications. Remove the custom ad blocker rule(s) and the page will load as expected.